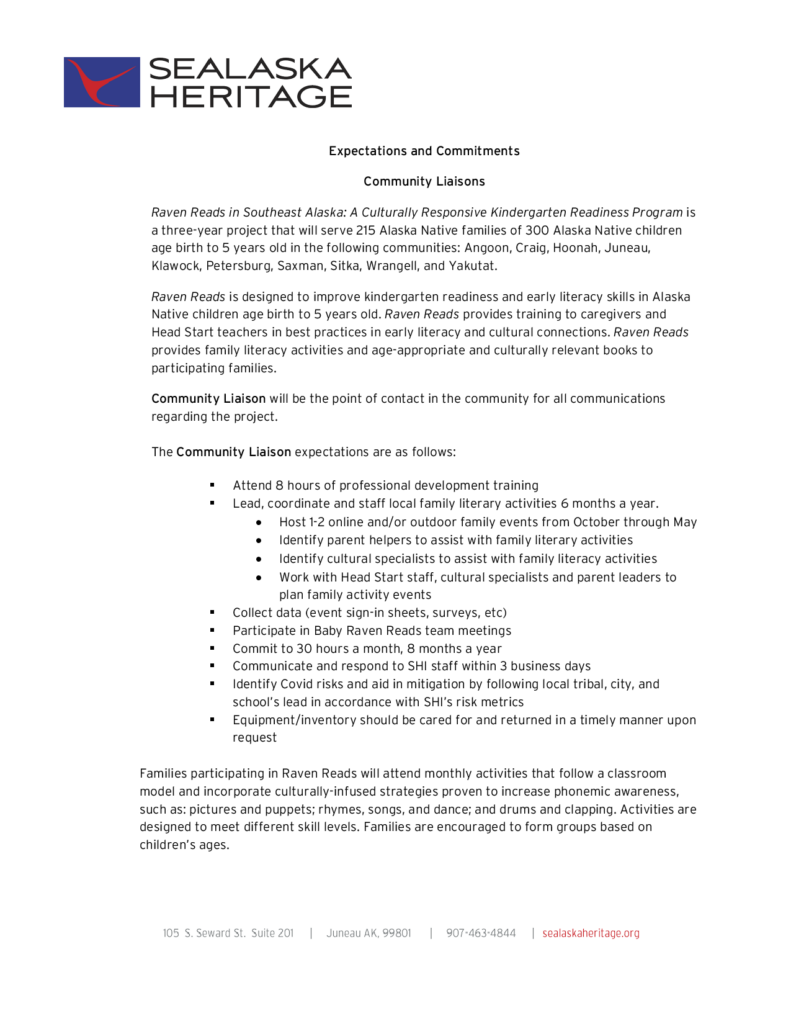 Baby Raven Reads is an award-winning Sealaska Heritage sponsored program that promotes early-literacy, language development and school readiness for Alaska Native families with children up to age 5.
The pilot program in Juneau ended in 2017, and SHI received funding to offer the program for another three years and to expand it to nine other communities in Southeast Alaska. SHI—in partnership with Central Council of Tlingit and Haida Indian Tribes of Alaska (CCTHITA) Head Start program—will offer the three-year program in Juneau, Angoon, Craig, Hoonah, Hydaburg, Petersburg, Saxman, Sitka, Wrangell, and Yakutat through 2020.
Baby Raven Reads improves early literacy skills by translating cultural strengths into home literacy practices. Baby Raven Reads provides family literacy events, training for care providers, and professional development for early childhood educators.
This year, Sealaska Heritage is seeking community liaisons in Angoon, Craig, Hoonah, Juneau, Klawock, Petersburg, Saxman, Sitka, Wrangell, and Yakutat for Baby Raven Reads. Aside from being the point of contact in communities for all communications regarding the project, Community Liaisons will lead, coordinate, and staff local family literary activities, provide caregiver training and commit to 30 hours a month, nine months of the year.
Expectations and commitments for Community Liaisons are outlined above. Details about Literacy Events, Literacy Activities, Baby Raven Books, and Audio Resources can be found here.
Apply by sending a resume and brief statement of interest to [email protected].