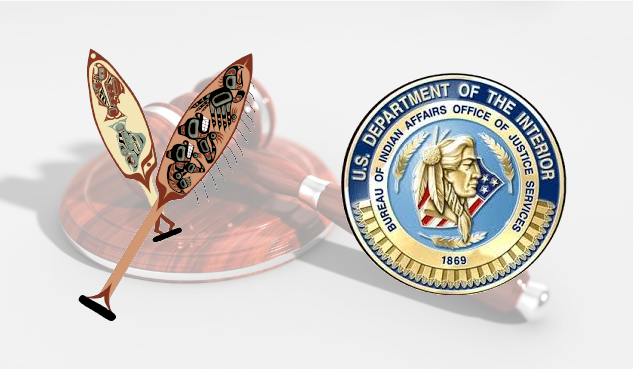 The Yakutat Tlingit Tribal Court is pleased to announce that we received a grant funding from the Bureau of Indian Affairs – Office of Tribal Justice Support in the amount of $375,046 to continue our efforts of developing Tribal Court staff competencies and capabilities. Currently, the State of Alaska is in budget crises, which has created the perfect storm for Tribal agencies to engage in dialogue with the State Courts to potentially take on greater responsibility within Native Villages.
Accordingly, the Yakutat Tlingit Tribe is in negotiation with Tlingit & Haida Tribal Courts to become a satellite court of Central Council of Tlingit and Haida Indian Tribes of Alaska (CCTHITA), who have a fully developed Tribal Court and are actively engaging Alaska State Courts for a greater and broader role within the Justice Systems of Alaska. Once finalized, the Yakutat Tlingit Tribe and the Hoonah Indian Association will be allowed to establish under Tribal law a satellite court to hear cases filed with CCTHITA.
This funding will help us provide relevant training to our staff and allow them to gain real-world skills from expert trainers. It will also expose them to current court issues while giving them the opportunity to network with other Tribal Court and State Court personnel, Judges, Drug treatment experts, Child welfare experts, and other pertinent contacts with relevant Tribal Court experience. The funding will also help secure office equipment to ensure confidentiality, permanent records destruction, and to allow for connectivity for virtual court link over the internet with Tlingit & Haida Tribal Courts and/or State of Alaska Courts.
We have been working closely with Northwest Intertribal Courts and have been able to witness various court models at Kenaitze Indian Tribe's Drug Court, Tlingit & Haida Tribal Courts, Tulalip Tribal Healing to Wellness Court, Puyallup Tribal Court, and Muckleshoot Elders Court. These experiences have demonstrated what is possible and have truly given us direction and have energized us in our efforts!