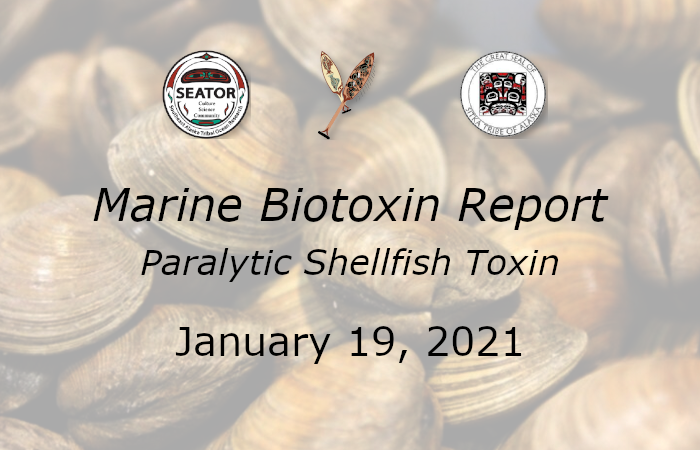 Paralytic Shellfish Toxin (PST) Report: The latest Southeast Alaska marine biotoxin report sees all shellfish samples from January 9, 2021 sampling event tested below the FDA's regulatory limit of of 80 µg/100 g.
YTT Environmental Department's latest paralytic shellfish toxin (PST) sampling from January 9, 2021, sees all shellfish samples testing below the FDA's recommended threshold of 80 µg/100 g.
The advisory for Puget Cove Butter Clams has been lifted, and there are no other advisories in currently in place.
YTT Environmental Department's next sampling event is scheduled for January 27, 2021.
Harvesting shellfish is an ancestral practice that provides community members with an integral food source. The PSP monitoring program's purpose is to promote safe harvesting practices by providing community members with information to make informed harvesting decisions, especially when there are elevated levels of toxins in any species.
Remember that shellfish toxin levels can be highly localized and vary from beach to beach. Harvest at your own risk. Please remember that cooking and/or freezing does not make shellfish safe for consumption. 
For the full Southeast Alaska Marine Biotoxin report and information about other southeast Alaska sites, please visit: http://www.seator.org/data
If you have questions or concerns, please send an email to YTT Environmental Department Director Jennifer Hanlon at [email protected] or leave a message at 907-784-3238 ext. 107.